Creating a Job
Discovery Genie keeps track of all the documents you need to review and produce in discovery for each case. Within each case, you may review and produce multiple sets of records, which are called Jobs. Think of a Job as a set of emails (such as "Smith Emails" or "Client Emails") or a set of electronic documents, like images, Word docs, Excel spreadsheets, or PDFs ("Contract Docs," "Pictures," or "Smith docs").
To run a Job through Discovery Genie, the first step is to get your Job uploaded into Discovery Genie. There are three steps to this process (see graphic above)—(1) create a Job in Discovery Genie, (2) prepare your upload file on your computer, then (3) upload the file you created on your computer into Discovery Genie.
The first part is really easy. Open Discovery Genie, login and click on the Home button in the navigation bar to go to the Home screen . Find your Case using the "Cases" or "Client" menu on the left, and select it by clicking on it. The Case overview will open in the main window. Go to the bottom of the screen to the "Jobs" area and click on the Add Job button.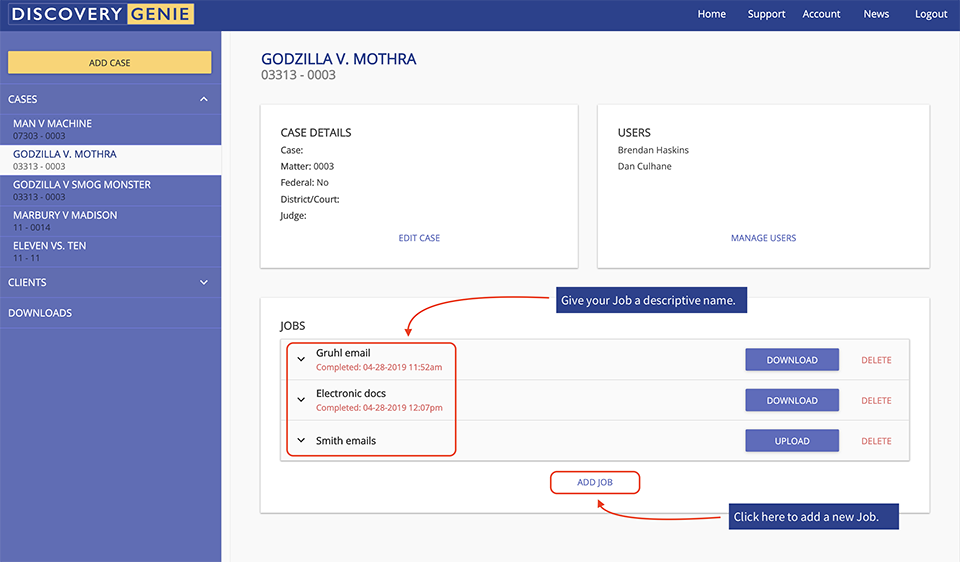 Follow the prompts and fill out the screen. Here is what you will see: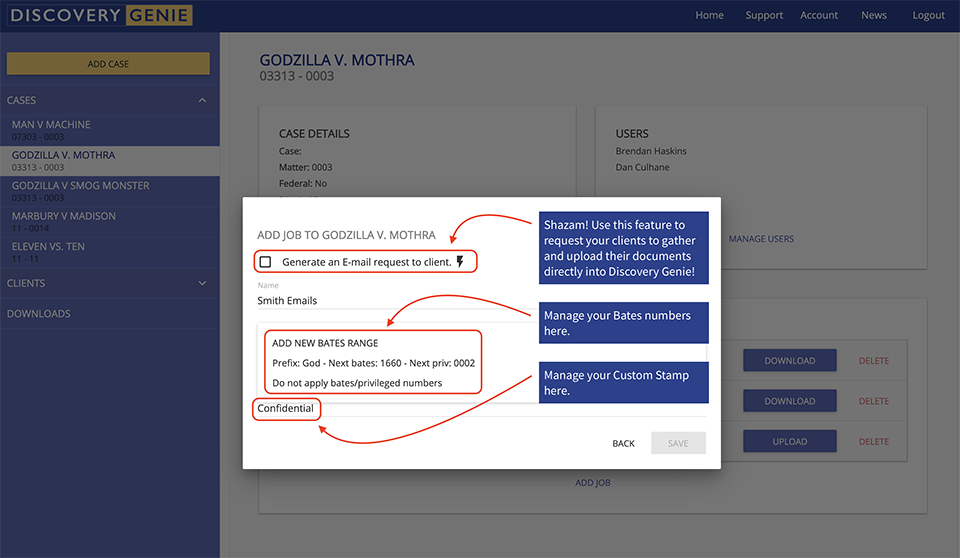 Here's what you need to know:
The Email Request function seriously speeds up document production by allowing your client to upload her documents directly into Discovery Genie. No more sessions sitting over your client's shoulder watching her gather the documents, just to hand them over to you to review and process them all over again.From here, the Genie takes over. The Genie sends your client an email request (with a copy to you) that walks your client through the process, step by step, of gathering the relevant emails or documents, saving them into a .pst, .mbox or .zip format, and then uploading directly into the Genie. Then, after the Genie receives and processes your client's upload, the Genie emails you to let you know that the documents are ready to review.(We will cover this feature one more time, after you have seen the entire process.)
Give your Job a name.

Manage your Bates numbers. The Genie will keep track of the Bates numbers for you, so if you add another Job (like when your client finds more documents after you make your initial disclosures), it will pick up where you left off—so you never again have to spend 10 minutes finding the last Bates number. Better yet, the Genie will handle as many Bates prefixes/numbering schemes as you want. If you like to organize your production as "Photos 1001-," "Emails 2001-" and "Documents 3001-", just create a separate Job for each category of production, and assign the Bates prefix and starting number you want for each Job.

Manage your Custom Stamp. The Genie allows you to mark any document you designate with a custom stamp, which appears in the lower left of the page (across from the Bates number). The default is "Confidential," which is useful if you have a protective order in your case. However, you can change "Confidential" to whatever you want—"Response to Subpoena 2319," "Trade Secrets" or anything else you choose.
Click Save, and your Job will appear in the Case overview, ready for uploading your set of documents.