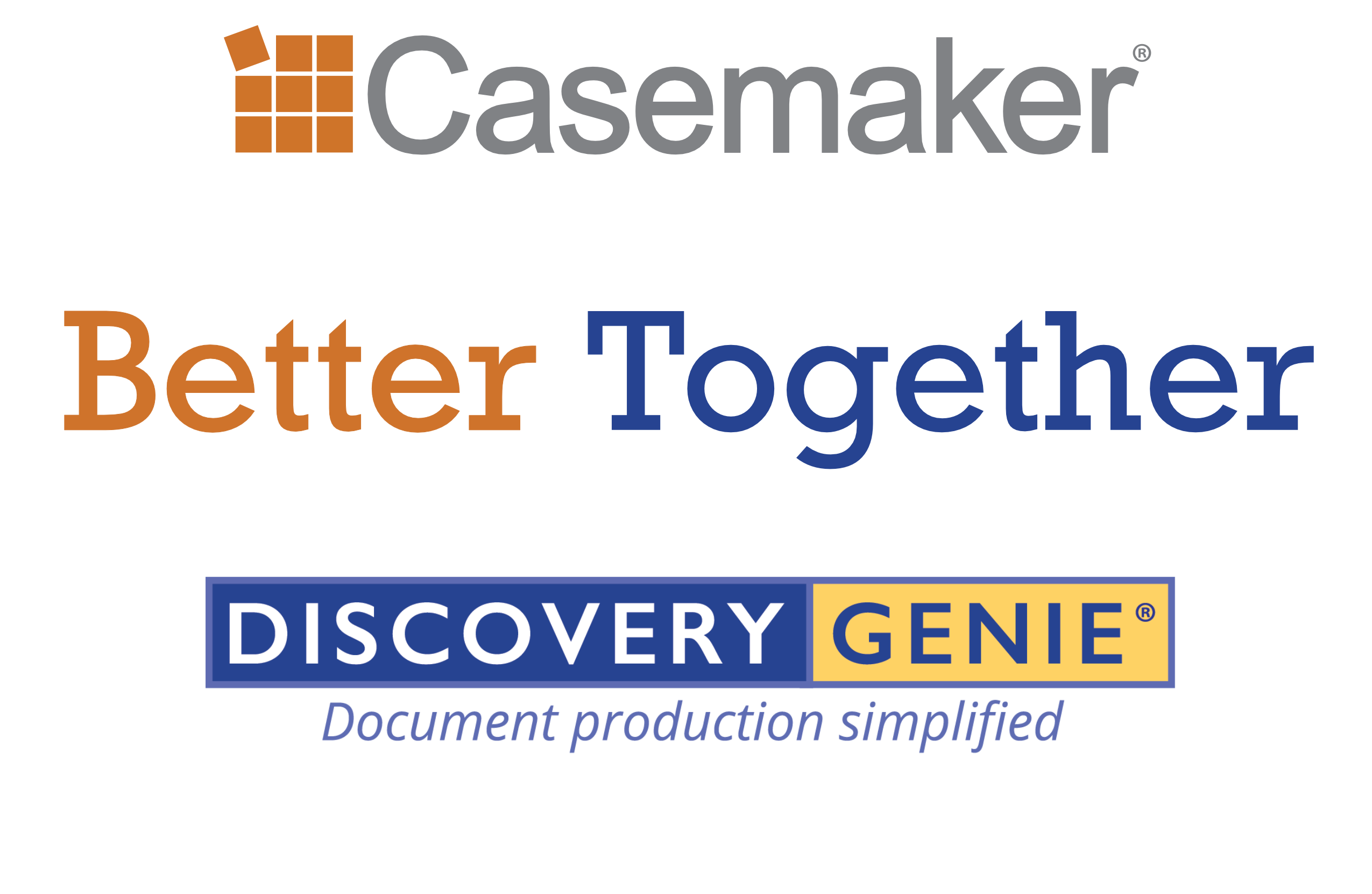 Get the Law.

Get the Facts.
Win your case.

---
That's the simple mission of the partnership between Casemaker and Discovery Genie.
Our innovative partnership is designed to help smaller firms get the law and get the facts by integrating and streamlining their litigation practice with powerful, cost-effective, online tools.
Get the Law.
Casemaker® focuses on a single mission: providing attorneys with affordable access to high quality legal research.
Get the Facts.
Discovery Genie® provides litigators with an easy to use tool to organize and produce your evidence.
---
The collaboration between Casemaker and Discovery Genie gives small law firms the ability to get the law and get the facts when it matters most: when you're in the midst of the discovery process.
You can use both platforms simultaneously, combining the review of your evidence (Discovery Genie) with legal research queries (Casemaker).
By accessing Casemaker's content directly from Discovery Genie's document review platform you can follow your hunches and insights as you review the evidence in your case seamlessly—without wasting precious time switching away from review or making notes elsewhere and following up.
Casemaker + Discovery Genie = Integrating and streamlining your litigation practice using powerful and cost-effective online tools.

---
More than 400,000 attorneys count on Casemaker® for accurate, timely answers to their legal research questions. Available for free to members of almost 30 bar associations, and to other users at a fraction of the cost charged by "premium" providers, the next generation Casemaker4 legal research system offers full federal and 50-state primary law coverage that is often more current than that provided by the leading high-cost services.
Powered by an extensive legal taxonomy and an advanced search engine, Casemaker4 returns accurate, on-point results. It features a state-of-the-art citator, a growing collection of authored secondary content, a new Alerts feature, and daily summaries of state and federal appellate decisions in your areas of interest. The secret is out. For attorneys looking for a winning edge, Casemaker4 delivers superior value.